Co-op Connections
The Co-op Connections program is an absolutely free service to you, and is a way to look out for and help our members.
The Co-op Connection card is just one of the programs we offer to help our members save money. This card is an attempt to give you more value for your dollar as a member of CECA. When you present your card at participating businesses, you get a discount! It's that easy. There is no charge, ever, to members at any time, or to businesses who participate.
Check out our Healthy Savings Options
CECA Co-op Connections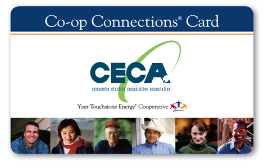 The Co-op Connections program is just one more advantage
to being a member of Comanche Electric Cooperative.
For more information on the program as a member or a business,
contact the Member Services department at 800-915-2533
or at mcaffey@ceca.coop.
All questions concerning the card can be answered
by contacting Maegan at 800-915-2533.